Way2Call Hi-Phone DeskTop™ USB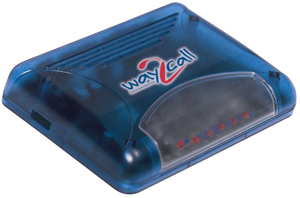 Way2Call Hi-Phone DeskTop™ is a
hardware device
that works with the telephone line instead of (or in parallel with) your voice modem.
Features full TAPI compatibility, Caller ID (US, Canada and Australia compatibility), and exceptional playback/recording quality. You do not need a voice modem to handle your IVR applications if you have this device.
Its open architecture gives developers, system integrators, and OEMs the flexibility to develop a wide range of application solutions to suit different markets. Its small footprint, external form factor, and Plug & Play (PnP) capabilities make it very easy to deploy in the Win98SE, 2000, and XP environments.
Hardware support information - click here.
Purchase and More Information
You can purchase the device at www.way2call.com. Please contact them for more information and payment options. Currently we are not selling these devices.
The new Hi-Phone DeskTop USB now has silence detection, SIT (Special Information Tones), custom tone generation, and current loop drop detection to enable better performance of automatic outbound and queue dialing environments. Also if you are using Goldmine, Outlook, ACT, or other TAPI products, the Hi-Phone DeskTop is a great addition to those packages to finally complete the capabilities of those great software applications!
One small device that turns your PC and regular phone into a powerful communication and management tool.
The Hi-Phone device links any existing analog telephone (including cordless phones) to a PC enabling telephone calls and memos to be recorded on a PC's hard drive.
The Hi-Phone device comes with Caller ID (supports the standards used in the US and Canadian as well as British Telecom CLIP) and call progress analysis for incoming and outgoing calls. A user friendly interface provides total control over features and functions such as automatic, manual or backwards recording, audio compression and AGC levels (Automatic Gain Control). As required by law in some regions, custom recordable OGMs (Out Going Messages) and warning-tones can be activated to notify the other party that the call is being recorded.
Features:
Ideal for: SOHOs, Law offices, Stockbrokers, Day traders, Call Centers, Executives, Large corporations and private use.
Use with any analog telephone, including cordless phones
Plug & play
Choice of USB and RS-232 models
Powerful yet user friendly application
Digital PC call recording
Record your telephone calls and personal memos
Easy and affordable call recording solution
Verify transactions
Communication training aid
Improve customer relations
Record confidential information to your PC
E-mail recorded calls to you colleagues
Low cost, high reliability, maintenance free device
Small footprint

Applications:

Drivers: low level API DLLs, WAVE, ActiveX, TAPI, iTAPI (all with sample code)
Broadcast/Unified Messaging
Voice Mail
Queue calls
Call waiting
SDK available
Operation with standard IP telephony software such as Microsoft NetMeeting etc.
H.323 compatible

Capabilities:

Interoffice calls on the office network as well as IP to PBX Calls (PC to Phone)
Single line gateway PSTN to PC
Internet PC to PC and PC to Phone calls
On the same telephone set, switching between PSTN and network lines (like calls on hold)
Call recording
Caller ID and Caller ID on call waiting
Conference Capabilities between IP end PSPN Calls.

Technical Information:

Full

-

duplex audio
Telephone line signals detection including busy, call waiting, stutter tone etc.
Echo cancellation
Voice process detection on PSTN line.
On board voice processing
LED display indicating power, ring, hand set on/off hook, PSTN line use, mute, headset plugged in
External Plug & Play Device for Windows 98/

ME, Windows

2000

, XP, or

NT4
RS232 Connection
On broad fully featured ringing SLIC.
Headset connection
Audio data format: u-Law and A-Law (G.711)
Firmware upgradable
Power: 12V DC 500 mA
Dimensions: 13.75 x 11 x 3cm; 187 gram or 5 7/16 x 4 5/16 x 1 3/16in; .43 ounces.
Approval: FCC Part 15B, Part 68; UL

System Requirements:

PC with Pentium or higher
Free C

OM

port (RS232 version) or USB port (USB version)
Internet Explorer 4.0 or higher

MS Windows

98/

ME, Windows

2000

, XP, or

NT4
More information available on the manufacturer's Web site: